Safety
Safety in detail!
Extra secure side rails and doors are already included in our basic equipment. Thanks to our wide range of user-friendly safety systems, for example the SAVI door locks I-IV, you can adapt the safety system to your individual needs.
As a manufacturer of medical products, we manufacture our products and of course also our childrens care beds in accordance with the safety requirements for medical products of the EC Directive for Medical Products (93/42/EEC) and the Medical Products Act (MPG), as well as the quality requirements of the central associations of health insurance companies according to § 139 SGB V.
The following standards are applied in the development of our product development and are taken into account during production:
DIN EN 50637 Special specification for the security of medical beds for children
DIN EN 32623 Hospital cots
DIN EN 716-1 Children's beds for the living area
DIN EN 60601-2-52 Special requirements for the security of medical beds
Our products are re-tested and certified by a certification body (testing laboratory, accredited body) for compliance with the above-mentioned standards and requirements.
Safety is our top priority! Here you can see the example of the corner posts: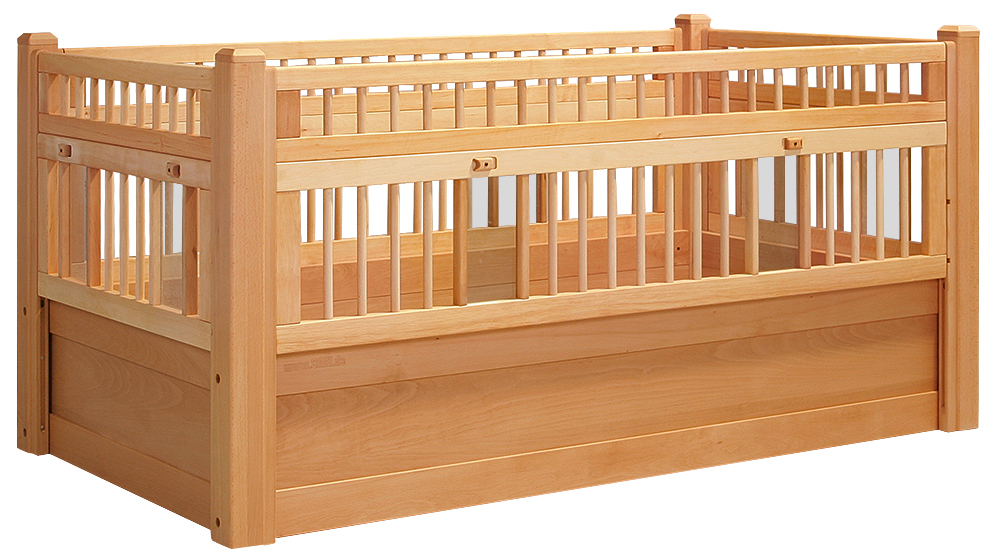 We place particularly high safety requirements on the side rails of childrens care beds. The locking devices are a very important aspect. For example, a 2-hand operation is always provided for a side rail to prevent unintentional jamming and to enable easy operation. The side rails are available in different heights and versions, so that optimum use is always guaranteed.
Doors
The basic equipment of each of our children's care beds also includes our internal door fitting systems. The fittings are integrated into the doors and are no longer visible when the door is closed. This gives us a closed wooden surface that does not offer any possibility of injury - the only real way to ensure security. We always work here with two independent security locking systems. Our "easy close" locking system is an integral part of this and is part of the basic equipment of every bed. All SAVI systems can be operated with one hand and are therefore not only security but also practical and easy to use.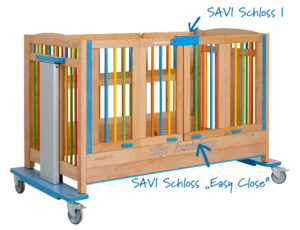 No visible fittings!
Safety first – the SAVI door locking systems
Child-safe SAVI lock I (basic equipment)
Child-safe SAVI lock I made of metal
SAVI lock II
SAVI lock III: The labyrinth guide prevents accidental opening by the child. This lock is keyless and without magnet. Can also be retrofitted.
SAVI lock IV: Here too, opening is by a labyrinth guide. However, this is additionally done against a resistance. This lock is keyless, without magnet and can be retrofitted.
External door protection on the bed side (increases stability and offers even more security)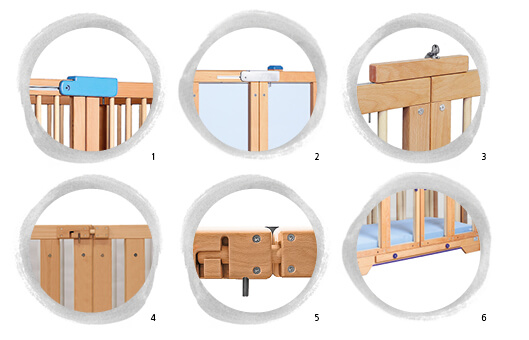 Padding
The firmly integrated SAVI padding is for particularly active children and offers absolute security for these people too. Maximum security is guaranteed by the 50-75 mm thick foam padding, which is mounted inside the bed by means of a screw connection. Other options such as vinyl windows provide light and visibility inside the bed. The firmly integrated padding provides maximum comfort for the SAVI childrens' care bed and ensures that all bed functions (doors, slat frame adjustment, etc.) can be operated without having to remove the padding first.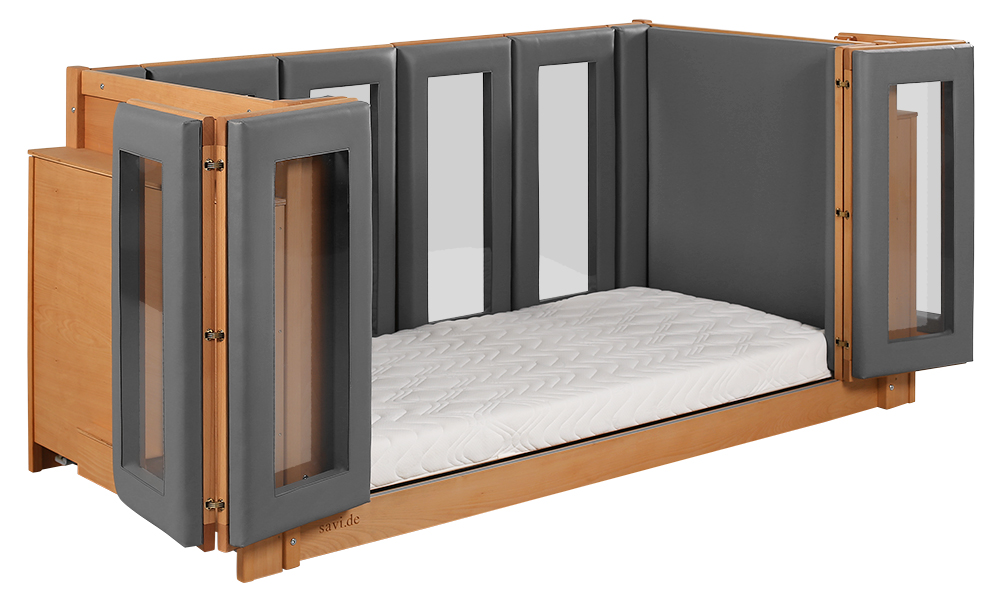 Electrical security
All SAVI beds offer the following electrical security:
Energy-saving transformers and primary fuses
Protection through reinforced insulation of e.g. power cables - protection class II
Protection against penetration of liquids and dust min. IP protection class 44
Safety hand switch (lockable), hand switch box, voltage 12+24V systems, maintenance-free DC motors
Surface and wood
SAVI, as a manufacturer of childrens care beds, only uses wood from forests managed in a sustainable way (supplied by PEFC certified suppliers).
We offer you two options for the surface:
1. VARNISH (clear varnish). A closed lacquered surface according to DIN EN 71 part 3 (security of toys), as well as ISO 10993-5 (biological evaluation of medical devices - biocompatibility).
A high-quality clear varnish is applied to the wood surface.
pro:
Painted surfaces are very resistant. The childrens care bed is well protected against dirt and moisture and maintenance is also very easy.
contra:
The varnish layer is absolutely tight, so the wood is no longer breathable. The positive influence on the room climate is thus no longer given and the haptic qualities of the wood are also largely lost. Scratches and imperfections can only be repaired by re-varnishing the surface (very costly).
2. HARD OIL WAX. Our eco-surface - for the sake of the environment too!
The natural product wood is refined with a natural product - oil and wax.
pro:
Oiled and waxed surfaces maintain the natural protection of the wood. The wood remains breathable and contributes to a pleasant room climate. The feel of the wood is retained and it is healthy to live in. The natural surface shines in a silky gloss and is very colour-intensive. Scratches and stains can be easily removed and repaired at specific points.
contra:
The oiled and waxed surface is water-repellent, but remains open-pored, so that a change in colour cannot be ruled out in the event of prolonged contact with moisture.
All surfaces (variants 1 and 2) offer the following properties:
Toy safe according to DIN EN 71-3
Antimicrobial effect according to ISO 22196
Anti-slip according to DIN 51130
Emission-free
Saliva and perspiration resistance according to DIN 53160
deep protection + surface hardening
Water repellent, resistant to disinfectants and household chemicals
Also for use in clinics and hospitals
Please ask for a sample of our surfaces!
The four-wing folding sliding door is available for all beds on request! Thanks to the folding-sliding mechanism, the door offers maximum stability and precise running in every position. The entire side front can be opened in this way. Here, quality and function harmonise.
Adapted additional doors are of course available on request. Special designs for sloping roofs are no problem.
All beds are available with chassis and castors. The choice of castors should depend on the nature of the standing surface.
The entire SAVI bed range offers the childproof SAVI lock, which prevents the doors from being opened unintentionally (DBGM-protected).
Alder or beech wood fits in most children's bedrooms and can almost always be combined with the existing furnishings without any problems. Other types of wood are available on request!
Special designs according to your specifications.