We present our Lola children's care bed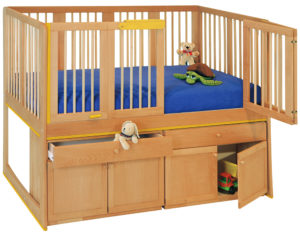 The ideal comfort bed for the little ones
The Lola children's care bed has a fixed, high basic lying height. This makes Lola ideal for small children. A comfortable sleeping position relieves the strain on your child's back. The all-rounder among the care beds ensures a restful sleep in which your child can regenerate.

The bed for children to feel good in
The children's therapy bed is first and foremost your child's place of retreat.
Lola is available in different side rail heights from 65 cm - 90 cm.
The fixed lying height in combination with the side rails prevents the little ones from falling out. Nevertheless, the side rails of the children's care bed can be opened over the entire length. With the childproof SAVI lock, you have the control to open and close the bed doors easily.
Full view ahead is promised by the plexiglas windows. Your child can see you and feels safe and secure.
You can store bed linen, cuddly toys or care accessories in the optional lower drawers. These offer practical storage space and help to keep the children's room tidy.
Immerse yourself in the world of children and design the children's and therapy bed with individual colour accents.
Our multi-talent and its advantages
Easy handling of the doors with childproof locks prevent your child from getting out of the children's care bed in an uncontrolled way.
Lola can be combined with all slatted frames and thus offers you individual possibilities.
You can easily convert the children's bed into a therapy bed.
On request, we can equip Lola with firmly integrated padding and vinyl windows.
The wooden surface ensures cosiness and is treated in a child-friendly way (DIN 71-3 safety for toys).
Your child can't fall asleep? Cuddle up with it to calm it down. Thanks to the stable construction, the bed can support a weight of 150 kilos.
The children's care bed Lola comes with a wide range of accessories so that your little one will want for nothing.
Stability and reliability are the hallmarks of the care bed.
Lola is for the little ones and for the very big ones. We can supply you with a wide range of bed sizes (up to 180x220 cm).
Short delivery times shorten your anticipation.
The children's bed is not only for sleeping. They play, romp, nurse and treat in it. The bed is exposed to various influences, such as saliva or sweat. To ensure that your child feels completely comfortable and that the bed can withstand everyday use, it has wet protection.
To prevent climbing out or falling, the side rails are at least 60 cm high (DIN regulation).
more pictures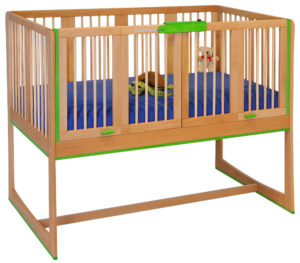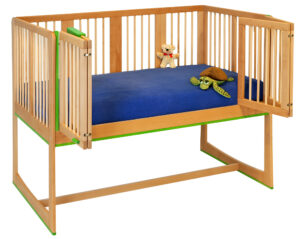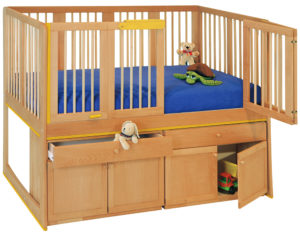 Catalogues & downloads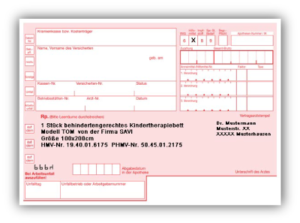 In our download area you will find helpful informations and latest brochures to download. Click here to go to the corresponding area.
Request catalogue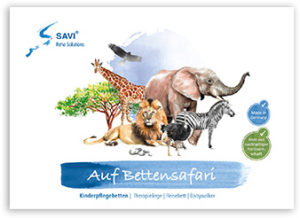 By using our online form you can conveniently order latest catalogues, conveniently delivered to your door.
Our wood tones/surface finish
Our care beds are available in various wood tones/surface finishes: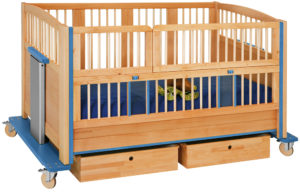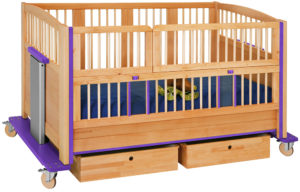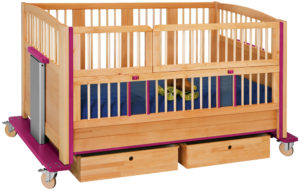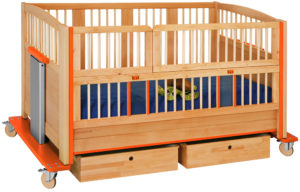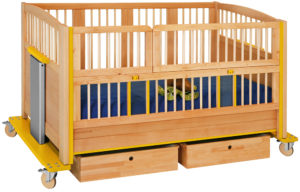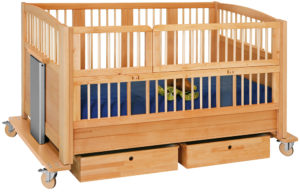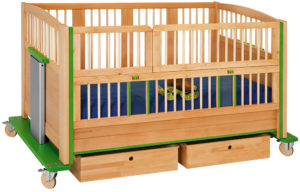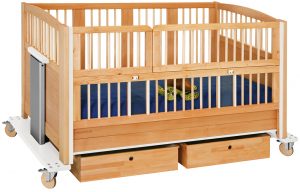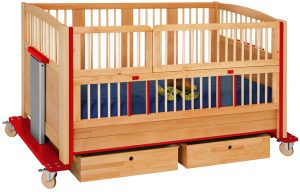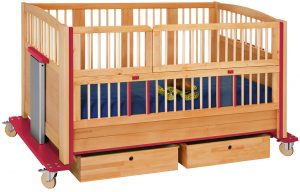 wood colours
Our beds are available in many wood colours. The beech wood is treated with the desired colour glaze, as an alternative to "natural oiled" - all options are biologically neutral and free of harmful substances according to DIN EN 71-3 (security of toys)!
Since wood is a natural raw material, every bed looks different. This makes your bed a real one-of-a-kind!
Lacquered surfaces are also available.
Make your choice...
choose model
choose size
choose equipment
choose colour accents
choose wood tone
lying area / external dimensions
100 x 200 cm / 113 x 206 cm
90 x 200 cm / 103 x 206 cm
door
4-winged folding sliding door
4-winged folding sliding door on both sides
folding door
folding door on both sides
270° folding doors
270° folding doors on both sides
locking mechanism
child proof SAVI-lock I
child proof SAVI-lock I, made of metal
child proof SAVI-lock II
child proof SAVI-lock III
child proof SAVI-lock IV
lying height (top of the slatted bed base)
barred side height / overall height
65 cm / 150 cm
90 cm / 175 cm
special sizes on request
slatted bed base
not adjustable
manually adjustable head-/foot element
electrically adjustable head-/foot element (no height adjustment)
firm bed base
kind of wood
mattresses
polyfoam RG 35
interior spring mattress
Reha-Star Plus mattress
Reha-Star II matress
cold foam mattress
incontinence cover
accessories
children's name on the side of the bed
coloured sticks in head-/foot element
perspex instead of sticks
external lock
hose feed-through
storage compartment with tube feed-through for hanging up
Infusion holder
raising aid
adaption of the bed to sloping ceiling
2 bed containers
mattress holder
penetration protection for the slatted frame
wood care set
padding
motif padding MALU, 50 cm
loose Skai-padding
fixed Skai-padding
fixed Skai-padding with vinyl windows
edge padding
Here you can see some special versions we've produced to customer's order.
If you have special requests too, please contact us!