ChoReha care bed (c) - robust construction and maximum protection

A care bed must be able to withstand a lot, so stability is the be-all and end-all. Our ChoReha (c) bed model meets this requirement one hundred percent. Thanks to the padded wooden walls, the bed is sturdily built and greatly minimises the risk of injury for Huntington's disease patients.
Product details at a glance
Side rail height: With a side height of 40 centimetres, your relatives are well protected at night and participate in life during the day.
Bed padding: All walls are covered with generous padding on the inside over their entire height.
Electrically adjustable lying height: The lying surface can be raised from 40 to a maximum of 80 centimetres.
Wood tone freely selectable: From wenge to beech, you choose the wood in which we manufacture the care bed.
Padding colour freely selectable: We cover the bed padding of your special bed with the imitation leather cover of your choice. This guarantees that the bed matches your furnishings.
Four-panel folding door: The ChoReha (c) model is equipped with a folding door that simplifies care.
External padding (optional): For Huntington's disease patients who need special protection, we also provide the bed with optional padding on the outside.

Care bed in different sizes
Like all our care beds, this model is also available in different sizes.
We also supply the ChoReha (c) bed in special sizes.
Please feel free to ask us about the possibilities!
Our wood tones/surface finish
Our Chorea-Huntington and special beds are available in different wood colours/surface finishes.

Available favourite colours and suitable padding colours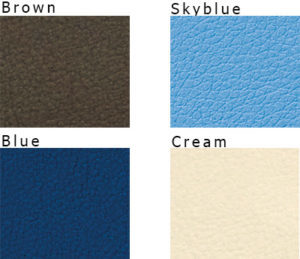 Make your choice...
choose model
choose size
choose equipment
choose colour accent
lying area / external dimenstions
100 x 200 cm / 128 x 223 cm
120 x 200 cm / 148 x 223 cm
lying height (top of the slatted bed base)
41 - 76 cm electrical height adjustment
41 - 91 cm electrical height adjustment (only model b)
40 - 80 cm electrical height adjustment (only model c, d, e)
barred side
four-winged folding doors
four-winged folding doors on both sides
barred side height
ChoReha (a): 40 cm
ChoReha (b): 64 cm
ChoReha (c): 40 cm
ChoReha (d): 60 cm
ChoReha (e): 70 cm
slatted frame
running gear
Skai-padding colour
mattress
polyfoam RG 35
interior spring mattress
Reha-Star Plus mattress
Reha-Star II matress
cold-foam mattress
heavy-load mattress (load capacity up to 350 kg)
incontinence cover
accessories
raising aid
perspex at the barred sides
fixed Skai-padding
fixed Skai-padding with vinyl windows
edge padding
external padding
Here you can see some special versions we've produced to customer's order.
If you have special requests too, please contact us!