This is our children's care bed Knut (a)
The perfect support for caring for your child
Thanks to the four-wing folding sliding door, the side rails and the flexible height and tilt adjustment options, the children's care bed Knut offers very good therapy support.

Curious how the child care bed Knut A looks in your nursery?
Simply scan the QR code with your smartphone (mobile: simply click on the QR code) and place the bed visually in your nursery!
The special features of Knut beds
The beds of the entire Knut series can optionally be supplied with electrically adjustable side rails.
Anyone who has a child with a handicap knows how exhausting it is to constantly move a bed manually. That is now a thing of the past! All Knut models have side rails that are simply adjusted at the touch of a button. Thanks to the easy handling, people with a handicap can operate the rails themselves and thus gain a bit of independence. A great feature that makes parents and child happy!
Advantages of the electrically adjustable side rail
Easy to operate: The side rails are very easy to operate at the touch of a button, even for people with a handicap.
Safety: The operation is lockable. This prevents uncontrolled opening of the side rails.
Flexible adjustment possibilities: Only those who lie comfortably can sleep well. That is why the bed is infinitely adjustable.
Short adjustment times: The side rails can be adjusted with reasonable time.
Conformity with international bed standards: The be-all and end-all for care beds!
More features
In addition to the electrically adjustable side rails (optional), Knut (a) is characterised by the following features: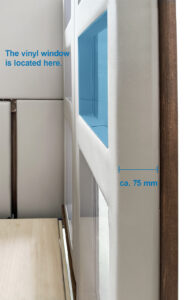 Firmly integrated padding (optional): Your child needs a special level of safety? Optionally, we equip Knut (a) with our firmly integrated Skai padding and vinyl windows. The padding is approx. 75 mm thick and protects your darling from injury. With the vinyl windows (shatterproof!) you have your child in view and your child feels visibly more comfortable.
Side rail height: The bed has a side rail height of 64 cm.
Lying height: Depending on your preference, your child lies at a height of 41 cm up to 76 cm.
Side rails can be lowered electrically (optional): The electric side rails are characteristic of the Knut range.
Trendelenburg function: Thanks to flexible adjustment options, your child can lie in the Trendelenburg position.
Plexiglas window (optional): A Plexiglas window (polycarbonate - shatterproof) can make for a nicer togetherness.
Colour accents of your choice: Tastes are different - that's why all beds can be customised in terms of colour.
NEW: Side rails "hide away" and central locking device (optional): Available for Knut (a+b). Creates more free space for you and your child. Our new side rail has been registered with the Patent and Trademark Office.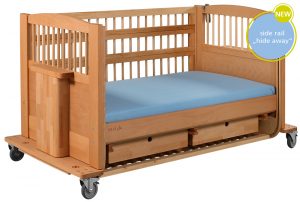 Reasons that speak for the children's care bed Knut:
Handling: Easy handling of the doors with childproof lock.
Combination possibilities: The bed can be combined with all slatted frames.
Adjustment possibilities: Of course, you can adjust Knut individually to the correct care height.
Wood processing: The wood surface is treated in a child-friendly way (DIN 71-3 safety for toys).
Load capacity: Knut (a) is designed for a person weight of up to 150 kg.
Extensive accessories: Depending on requirements, the bed can be equipped with various additional functions.
For small and tall children: Knut (a) is available in many bed sizes (up to 180x220 cm).
Safety: The safety of your child is ensured by the integrated safety protection and a side rail height of at least 60 cm (according to DIN regulations).
Wetness protection: To increase the lifespan of the bed, the wood used is refined. This makes them water-repellent and resistant to saliva and perspiration.
Short delivery times: We don't like to keep our customers waiting.
SAVI quality: All our beds are characterised by their professional construction, high stability and reliability.
More pictures
Catalogues & downloads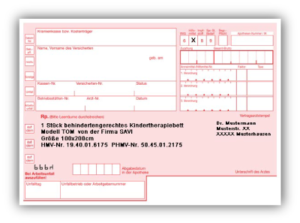 In our download area you will find helpful informations and latest brochures to download. Click here to go to the corresponding area.
Request catalogue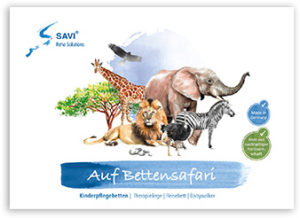 By using our online form you can conveniently order latest catalogues, conveniently delivered to your door.
Our wood tones/surface finish
Our care beds are available in various wood tones/surface finishes:
wood colours
Our beds are available in many wood colours. The beech wood is treated with the desired colour glaze, as an alternative to "natural oiled" - all options are biologically neutral and free of harmful substances according to DIN EN 71-3 (security of toys)!
Since wood is a natural raw material, every bed looks different. This makes your bed a real one-of-a-kind!
Lacquered surfaces are also available.
Make your choice...
choose model
choose size
choose equipment
choose colour accents
choose wood tone
lying area / external dimensions
100 x 200 cm / 113 x 218 cm
90 x 200 cm / 103 x 218 cm
90 x 170 cm / 103 x 188 cm
70 x 140 cm / 83 x 158 cm
65 x 155 cm / 78 x 173 cm
doors
side rail "hide away"
side rail "hide away" on both sides
four-leaf folding sliding door
four-leaf folding sliding door on both sides
270° folding door
270° folding door on both sides
lowerable side rail (electric/manual)
side rail can be lowered on both sides (electric/manual)
locking mechanism
child proof SAVI-lock I
child proof SAVI-lock I, made of metal
child proof SAVI-lock II
child proof SAVI-lock III
child proof SAVI-lock IV
lying height (top of the slatted bed base)
41 - 76 cm - Knut (a)
41 - 91 cm - Knut (b)
21 - 91 cm - Knut (c)
31 - 101 cm - Knut (c)
barred side height / overall height
64 cm / 113 - 148 cm - Knut (a)
78 cm / 127 - 183 cm - Knut (a)
89 cm / 127 - 197 cm - Knut (a)
64 cm / 113 - 148 cm - Knut (b)
78 cm / 127 - 183 cm - Knut (b)
89 cm / 127 - 197 cm - Knut (b)
64 cm / 113 - 148 cm - Knut (c)
78 cm / 127 - 183 cm - Knut (c)
89 cm / 127 - 197 cm - Knut (c)
special sizes on request
slatted bed base
not adjustable
manually adjustable head-/foot element
electrically adjustable head-/foot element
firm bed base
Trendelenburg-function / anti-Trendelenburg-function (sloping position)
running gear
four-castor running gear (plastic)
4 designer castors (beech wood)
without castors (reduced lying height of about 10cm)
kind of wood
mattresses
polyfoam RG 35
interior spring mattress
Reha-Star Plus mattress
Reha-Star II matress
cold foam mattress
incontinence cover
accessories
children's name on the side of the bed
coloured sticks in head-/foot element
perspex instead of sticks
head-/foot element with perspex in the lower area (serial for C)
external lock
hose feed-through
storage compartment with tube feed-through for hanging up
Infusion holder
raising aid
drawers (2 pieces)
motor cover
mattress holder
step protection for slatted frame
wood care set
central locking device for 4-castor running gear
padding
motif padding MALU, 50 cm
loose Skai padding, 50 cm
fixed Skai padding
fixed Skai padding with vinyl windows
edge padding