Worth knowing
Movement increases learning efficiency
A certain amount of freedom of movement in the child's bed appeals to self-sensation and depth sensitivity. The development of the brain and the pathway of nerve endings are promoted. This is often a problem for children with disabilities.
Normally, accidents do not happen to healthy children when they are playing in bed, because they can usually assess their motor skills quite well. Consequently, they do not fall out or get tangled in a grate.
The children's therapy bed always represents something special. Very often, children with disabilities have limited motor skills. In addition, spasticity and seizures make it impossible for children to move in a controlled and purposeful manner. The risk of injury increases very significantly.
A children's therapy bed should meet these special requirements. The side rails of the children's therapy bed should be available in different heights and with different features (such as bars or polycarbonate -shatterproof Plexiglas-). This allows you to adapt the children's therapy bed to the child's individual needs.
Safety is always a top priority for children's nursing beds. In addition to the requirements of the Medical Devices Act, the current relevant DIN EN (European standards) should be observed. Children's therapy beds are durable medical products, which is why stability and functional efficiency over many years are very important. This is underlined by a solid construction, professional use of materials and stable connecting elements.
The use of natural materials in the production of children's therapy beds prevents possible allergic problems in children. Great attention should therefore be paid to this. A sweat- and saliva-proof as well as antimicrobial surface made of e.g. beech wood not only feels natural and velvety, but is also the prerequisite for the children's well-being. Rounded edges and smooth surfaces have an inviting effect on children and help them to grasp and walk safely. If you put yourself in the world of children, it quickly becomes clear that a children's therapy bed is not only there for sleeping. Rather, it gives the child a feeling of safety and security. The inner area of a children's therapy bed, which is easy for the child to see, conveys to the child "this is my area" and thus has a calming effect on the child and supports falling asleep.
A children's therapy bed must function reliably, as well as compensate for or mitigate the child's limitations, which requires special construction and equipment. The daily loving and laborious work of the caregivers should also be noticeably facilitated. The most sustainable way to achieve this is with a motorised height-adjustable care frame, which is indispensable for daily care. When choosing a mattress and mattress cover (+replacement cover), you should not do without individual advice.
What children want from a bed and what a childcare bed must offer:
Sleep, play, feel good, retreat
Children love beds, especially for playing and romping. A cosy bed not only contributes to a more restful sleep, but is also a place of retreat and shelter when children are not feeling so well or are sad.
Children perceive the world with all their senses. Bright colours, appealing materials, interesting shapes magically attract children, arouse their curiosity and stimulate their imagination. They also explore the world with their hands. Therefore, not only the appearance of the bed is important, but also the materials used are of great significance. Beds made of wood radiate a special warmth and cosiness. On top of that, they feel beautiful and are therefore particularly inviting for children. A soft mattress, pirate or princess bed linen and cuddly toys make the bed even cosier. The more inviting the bed is, the more a child will want to retreat to it to sleep, play, read, dream, build castles and whatever else a child can think of ...
Space to cuddle and care
Sometimes children have problems falling asleep or sleeping through the night and the only thing that helps is cuddling with their parents. Some children also need to be cared for at night. A large bed offers the necessary space for parents and child. Especially for children with handicaps, an oversized bed can therefore be useful, which allows for optimal care, but also for cuddling together.
A childcare bed must therefore meet a wide range of requirements. It is not simply a place to sleep and play, but it must support the care of the child in the best possible way and sometimes also offer the parents a place to sleep next to their child. Many therapists also use it as a therapy bed. A child care bed must therefore meet the individual needs and possibilities of the child and at the same time allow as much freedom of movement as that child needs.
There are many factors that make a product valuable: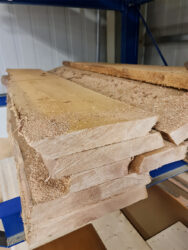 Production begins with the critical selection of raw materials. In our manufactory, only knotless woods are processed under environmentally friendly aspects.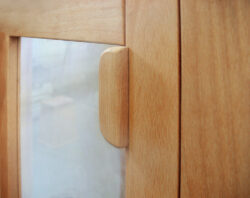 In order to preserve the natural character of the wood, the surfaces are finished with natural wax or varnish, for example, which has been tested under health and ecological aspects and according to DIN EN 71 (safety of toys).
During the development of the beds, care was taken to ensure that the edges are strongly rounded during processing. The fittings are also on the inside to prevent injuries.

All beds conform to European standards, bear the CE mark and are compatible with each other. In this way, we offer you the optimal conditions for finding the ideal solution for your individual requirements.
We pursue the philosophy of thinking holistically and also bringing the topic of the environment and energy into the same cycle as our products.
Material:
All materials used in our products and especially the woods we use for their production are sourced from reforested are from reforested and sustainably managed forests in Europe. They are supplied by PEFC-certified suppliers.
Production buildings:
Our production buildings are built to be more energy-efficient than the current Energy Saving Ordinance (EnEV) requires and are also equipped with underfloor heating throughout the production area. Our bright and light-flooded rooms also hardly need any additional lighting during the day, so a lot of energy can be saved there.
Machinery and equipment:
The waste produced during the production process (dust and chips) is pressed into briquettes and made available for combustion in an environmentally friendly way. The exhaust air is filtered and more than 80% of the residual heat can be returned to the building via a heat recovery system. Modern energy-optimised machines ensure the lowest possible energy consumption.
Energy procurement (electricity):
An almost 200 KW photovoltaic system provides the power supply. This can feed the energy demand for the heat pump as well as most of the production plant.
Our large selection of user-friendly safety systems, for example the SAVI door locks I-IV, allows you to adapt the safety system individually to your needs.
We manufacture our products, and of course our children's care beds, in accordance with the safety requirements for medical products of the EC Directive for Medical Devices (93/42/EEC) and the Medical Devices Act (MPG), as well as in accordance with the quality requirements of the central associations of health insurance funds in accordance with § 139 SGB V.
The following standards are important in the development of our products and are taken into account during production:
DIN EN 50637 Special specification for the safety of medical beds for children
DIN EN 32623 Hospital children's beds
DIN EN 716-1 Children's beds for domestic use
DIN EN 60601-2-52 Special specifications for the safety of medical beds
Our products are tested and certified again by a certification body (testing laboratory, accredited body) for compliance with the standards and requirements mentioned.
Safety is therefore our top priority!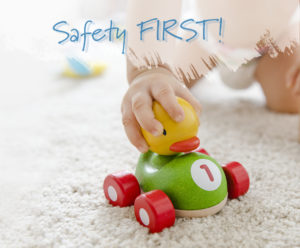 Electrical safety
All SAVI beds offer the following electrical safety:
Power-saving transformers and primary fuse
Protection by reinforced insulation of e.g. mains cables - protection class II
Protection against ingress of liquids and dust min. IP protection class 44
Safety handset (lockable), handset box, voltage 12+24V systems, maintenance-free DC motors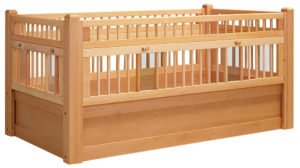 Side rails
We place particularly high safety requirements on the side rails of children's care beds. A very important aspect are the locking devices. A side rail is always equipped with a 2-hand operation to prevent unintentional jamming and to enable easy operation. The side rails are available in different heights and variants so that optimal use is always guaranteed.
Doors
Also part of the basic equipment of each of our children's care beds are our internal door fitting systems. The fittings are integrated into the doors and are no longer visible when the door is closed. This gives us a closed wooden surface that offers no possibility of injury - the only true way to ensure safety. We always work with two independent safety locking systems. Our "easy close" locking system is a fixed component here and is part of the basic equipment of every bed. All SAVI systems can be operated with one hand and are therefore not only safe, but also practical and easy to use.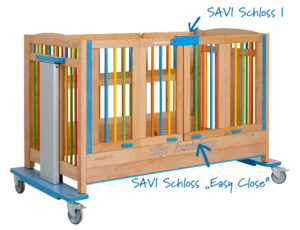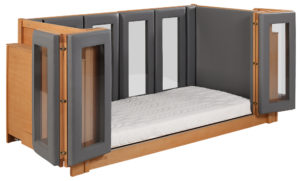 Padding
The firmly integrated SAVI padding is for particularly active children and also offers absolute safety for these persons. Due to the 50-75 mm thick foam padding, which is mounted inside the bed with screws, maximum safety is guaranteed. Other options such as vinyl windows provide light and visibility into the interior of the bed. The firmly integrated upholstery offers maximum comfort for the SAVI children's therapy bed and ensures that all bed functions (doors, slat frame adjustment, etc.) can be accessed without having to remove the upholstery first.
Surface and wood
We offer you two options for the surface design:
1. LACK (clear lacquer). A closed lacquered surface according to DIN EN 71 part 3 (safety of toys), as well as ISO 10993-5 (biological evaluation of medical products - biocompatibility).
Here, a high-quality clear varnish is applied to the wooden surface.
Advantage: Lacquered surfaces are very resistant. The children's nursing bed is well protected against dirt and moisture and maintenance is also very uncomplicated.
Disadvantage: The lacquer layer is absolutely dense, which means that the wood is no longer breathable. The positive influence on the indoor climate is therefore no longer given and the feel of the wood is also largely lost. Scratches and imperfections can only be repaired by re-varnishing the surface (very costly).
2. HARD OIL WAX. Our eco-surface - also for the sake of the environment!
The natural product wood is refined with a natural product - i.e. oil and wax.
Advantage: Oiled and waxed surfaces preserve the natural protection of the wood. The wood remains breathable and contributes to a pleasant room climate. The feel of the wood is preserved and it is healthy to live in. The natural surface has a silky sheen and is very colour-intensive. Scratches and dirt can be removed and touched up very easily.
Disadvantage: The oiled and waxed surface is water-repellent, but remains open-pored, so a change in colour cannot be ruled out after prolonged contact with moisture.

Both lacquer and wax offer the following properties:

toy safe according to DIN EN 71-3
antimicrobial effect according to ISO 22196
slip-resistant according to DIN 51130
emission-free
resistant to saliva and perspiration according to DIN 53160
deep protection + surface hardening
water-repellent, resistant to disinfectants and household chemicals
also for use in clinics and hospitals
Please ask for a sample of our surfaces!
The four-wing folding sliding door is available for all beds on request! Thanks to the folding-sliding mechanism, the door offers maximum stability and precise running in every position.
The entire side front can be opened in this way.
Here, quality and function harmonise.
Adapted additional doors are of course available on request. Special designs for sloping roofs are no problem.
All beds are available with chassis and castors.
The choice of castors should depend on the nature of the standing surface.
The entire SAVI bed range offers the childproof SAVI lock, which prevents the doors from being opened unintentionally (DBGM-protected).
Alder or beech wood fits in most children's bedrooms and can almost always be combined with the existing furnishings without any problems. Other types of wood are available on request!
Special designs according to your specifications.