Learn all about our children's care bed Niklas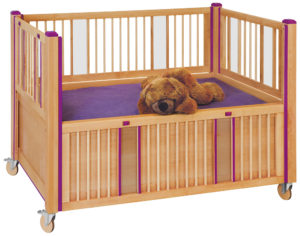 The Niklas care bed combines safety with freedom
The children's care bed Niklas is the latest addition to our wide range of children's care beds for rehabilitation purposes. It was designed with extreme flexibility and functionality of the barred sides in mind. The children's care bed is accessible from all sides because the sides can be lowered independently of each other. Top safety paired with unrestricted freedom - it's your choice.

Curious how the child care bed Niklas looks in your nursery?
Simply scan the QR code with your smartphone and place the cot visually in your nursery!
Niklas (40+20) 90x200 cm:             Niklas  65x155 cm:                 Niklas  90x170 cm:                 Niklas  90x200 cm: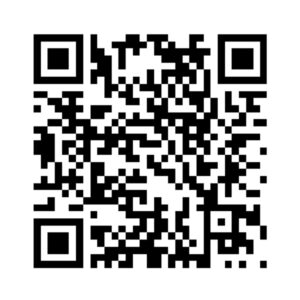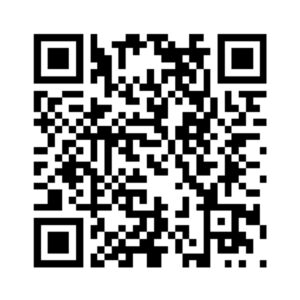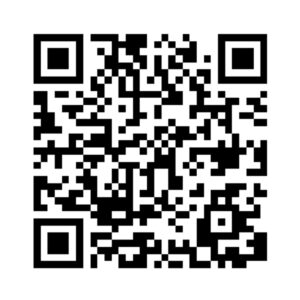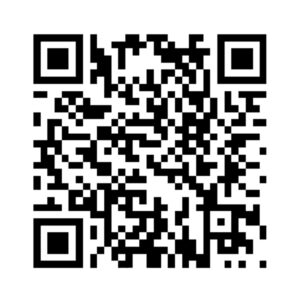 The perfect children's care bed for everyday care and family life
All-round well-being when sleeping, playing and doing therapy. With our children's care bed Niklas, you have complete freedom. With a few simple steps, you can convert your child's sleeping quarters into a therapy bed. Electrically adjustable side rails (optional) make this possible. For even more room to manoeuvre, remove the corner posts. This gives you even more freedom of movement to be there for your child.
Choose between different lying heights (76 - 116 cm), according to your needs.
Optionally, the cot can be upgraded with the Trendelenburg function so that your child can adopt the optimum lying position depending on the therapy requirement. This prevents back problems and your protégé enjoys a peaceful and healthy sleep.
Depending on your wishes, you can choose between Plexiglas windows or bars. With both options, your child can feel safe and still see everything from the outside world.
Colourful bed linen and child-friendly wallpaper bring colour into the children's room. The children's care bed can be designed with colourful accents to bring even more life into the room.
Pssst. Now it's quiet - with the Smooth function (optional). The quiet closing technology is made of wood and is therefore very quiet.
To offer your charge even more security, Niklas can also be equipped with firmly integrated bed padding and vinyl windows on request.
What advantages you can expect when buying our children's care bed Niklas
The doors are equipped with a childproof lock and are easy to handle.
Combine the bed for children with the slatted frames of your choice.
Whether big or small, adjust the bed to your optimum care height.
Children touch everything. To ensure that your own sleeping area does not become a danger, the wooden surface is treated to be child-friendly (DIN 71-3 safety for toys).
To cuddle, play or comfort your toddler, crawl into bed with him or her without a care in the world. The children's care bed can support a load of up to 150 kilos.
In order to meet the individual needs of your little one, the children's beds from SAVI offer a wide range of accessories.
The professional construction with high stability and reliability ensures optimum safety.
Our children's care bed Niklas is available in many bed sizes (up to 180x220 cm).
Without a long wait. Our delivery times are short.
The wetness protection ensures quiet nights and stress-free days.
The side rail height is at least 60 cm and is therefore subject to the DIN regulation.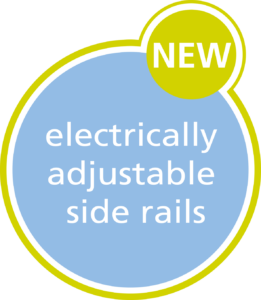 Advantages of the electrically adjustable side rail
Simple, simpler at its simplest. The adjustable side rails can be operated at the touch of a button.
To avoid uncontrolled opening, the operation can be locked.
The operation is barrier-free and can therefore be used by people with disabilities.
The side rails can be adjusted without effort.
The side rails are infinitely adjustable.
Sometimes things have to be done quickly. That is why the side rails can be adjusted in a short period of time.
Our care beds and side rails are all uniformly developed and manufactured according to the international bed standard.
Catalogues & downloads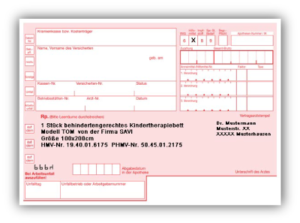 In our download area you will find helpful informations and latest brochures to download. Click here to go to the corresponding area.
Request catalogue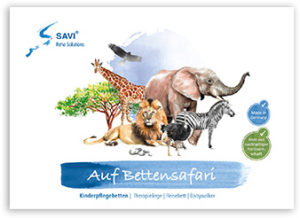 By using our online form you can conveniently order latest catalogues, conveniently delivered to your door.
Our wood tones/surface finish
Our care beds are available in various wood tones/surface finishes: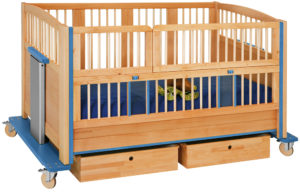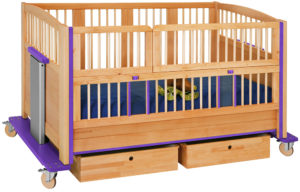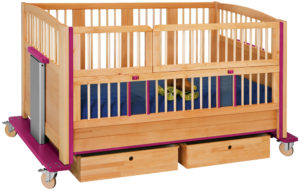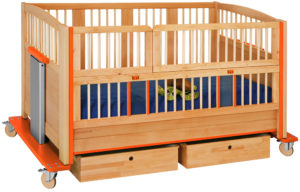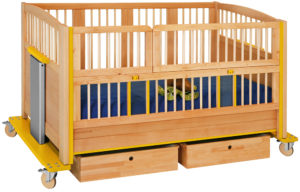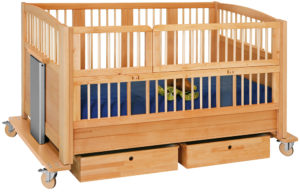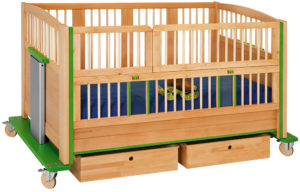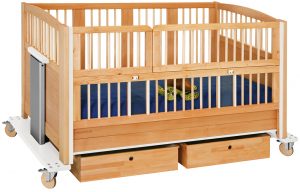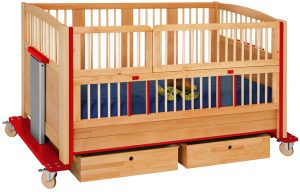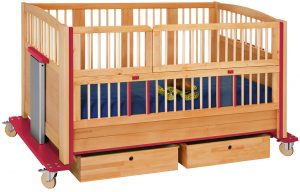 wood colours
Our beds are available in many wood colours. The beech wood is treated with the desired colour glaze, as an alternative to "natural oiled" - all options are biologically neutral and free of harmful substances according to DIN EN 71-3 (security of toys)!
Since wood is a natural raw material, every bed looks different. This makes your bed a real one-of-a-kind!
Lacquered surfaces are also available.
Make your choice...
choose model
choose size
choose equipment
choose colour accents
choose wood tone
lying area / external dimensions
100 x 200 cm / 115 x 215 cm
90 x 200 cm / 105 x 215 cm
90 x 170 cm / 105 x 185 cm
65 x 155 cm / 80 x 170 cm
door
4 barred sides adjustable in steps (lowerable)
only 1 side adjustable, 3 sides fixed
only 2 sides adjustable, 2 sides fixed
4 removable corner posts
electric adjustable side rail (1 long side)
electric adjustable side rail (both long sides)
lying height (top of the slatted bed base)
76 - 116cm (entrance height app. 76 cm)
47 - 87cm (low entrance height app. 47cm)
barred side height / overall height
60 cm / 140 cm
40+20 cm / 110 cm
slatted bed base
not adjustable
manually adjustable head-/foot element
electrically adjustable head-/foot element
firm bed base
Trendelenburg-function (sloping position) (inclination of the slatted bed base)
running gear
four-castor running gear (plastic)
4 designer castors wood (option)
kind of wood
mattresses
polyfoam RG 35
interior spring mattress
Reha-Star Plus mattress
Reha-Star II matress
cold foam mattress
incontinence cover
accessories
children's name on the side of the bed
coloured bars in the head and foot sections
plexiglass + bars
complete plexiglass
complete bars
hose feed-through
storage compartment with tube feed-through for hanging up
infusion holder
raising aid
adaption of the bed for sloping ceiling
drawers (2 pcs.)
mattress-holder
step protection for the slatted base
wood care set
padding
motif padding MALU, 50 cm
loose Skai-padding
fixed Skai-padding
fixed Skai-padding with vinyl windows
edge padding
Here you can see some special versions we've produced to customer's order.
If you have special requests too, please contact us!