Get to know children's care bed Knut (c)
Important aid in the care of your child
Children with handicaps have special needs and are often dependent on assistance. That is why we have made it our mission to produce care beds that offer you the support you need.

Curious how the child care bed Knut C looks in your nursery?
Simply scan the QR code with your smartphone and place the cot visually in your nursery!
Knut C (74) 100x200 cm: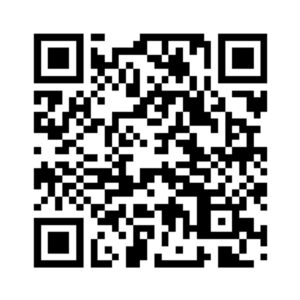 This is what distinguishes our children's care bed Knut (c)
The four-wing folding sliding doors, as well as the electrically adjustable side rails (optional) offer you a great deal of flexibility. You can put your child to bed more easily or convert the bed into a therapy bed. Thanks to the flexible height and inclination adjustment options, you can optimally respond to your child's wishes and therapy requirements.
This is how we deliver Knut (c)
Side rail height: The side rails have a height of 89 cm.
Lying height: You can set a lying height between 31 and 101 cm or 21 - 91 cm (with small castors). If you order the bed with lowerable side rails, the lying height changes to 41 cm - 111 cm!
Lowerable side rails (optional): Lowerable side rails (also electrically possible) create freedom of movement when caring for your child.
Trendelenburg function: Thanks to the flexible adjustment options, your child can also lie in the Trendelenburg position (anti-Trendelenburg).
Plexiglas windows (optional): Give the bed a friendly and homely character with a Plexiglas window (shatterproof).
Firmly integrated padding (optional): On request, we can equip all Knut models with firmly integrated bed padding.
Colour accents of your choice: With us, you design the bed of your dreams together with your child! You determine the colour accents individually according to your wishes and ideas.
Electrically adjustable side rails (optional) - these are the advantages:
Operability: Thanks to this practical function, the side rails can be raised or lowered simply by pressing a button. You do not have to exert any force, which makes operation possible even for people with a handicap.
Safety: Safety first! To maintain control over the side rails and prevent uncontrolled opening, the operation is lockable.
Adjustment possibilities: The side rails are infinitely adjustable.
Quick adjustment: The side rails can be adjusted quickly.
Compliant: Of course, this function complies with international bed standards.
Knut (c) - supporting functions & high-quality workmanship
Handling: Our beds are objects of daily use. We have designed them with this in mind - easy handling without sacrificing the aspect of safety. SAVI makes no compromises. And you?
Combination options: Knut (c) is compatible with all slat frames.
Optimum adjustability: Like all SAVI beds, Knut (c) can be adjusted to the correct nursing height, regardless of your body size.
Child-friendly finish: We treat the wooden surfaces of our beds and products in a child-friendly way in accordance with the DIN standard (DIN 71-3 Safety for Toys).
Wetness protection: We refine our woods. This makes them resistant to sweat, saliva and co.
Stable & reliable: Knut (c) is designed for a person weight of up to 150 kg.
Extensive accessories: We offer a wide range of extras to optimally equip your children's care bed and make everyday life with your child easier.
Sizes: Knut (c) is available in many bed sizes (up to 180x220 cm).
Fast delivery: We do everything we can to deliver the bed to you quickly.
In accordance with regulations: SAVI supplies you with quality in accordance with DIN regulations.
More pictures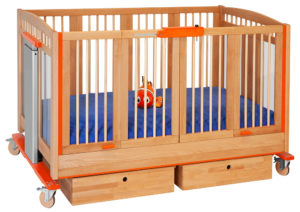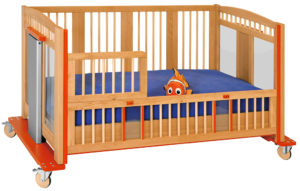 Catalogues & downloads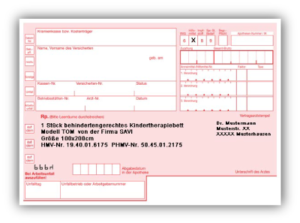 In our download area you will find helpful informations and latest brochures to download. Click here to go to the corresponding area.
Request catalogue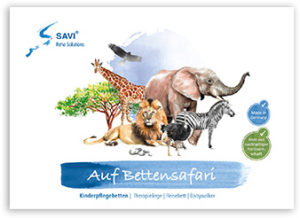 By using our online form you can conveniently order latest catalogues, conveniently delivered to your door.
Our wood tones/surface finish
Our care beds are available in various wood tones/surface finishes: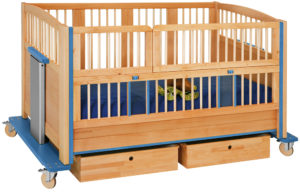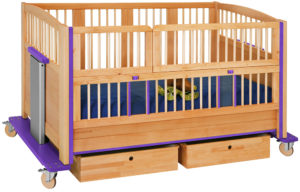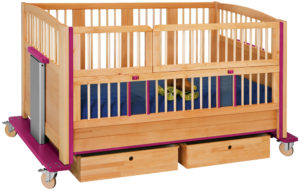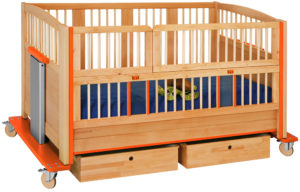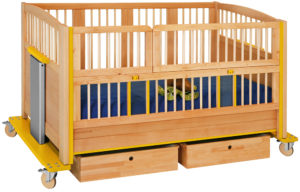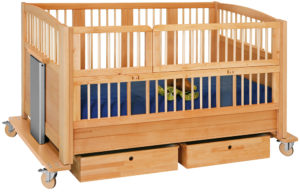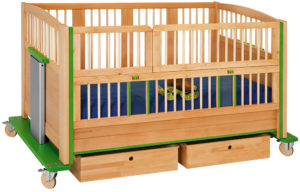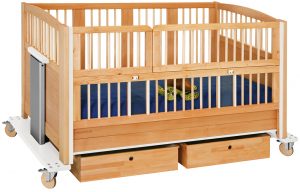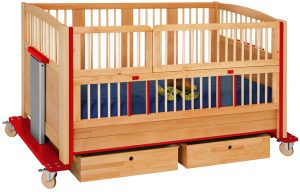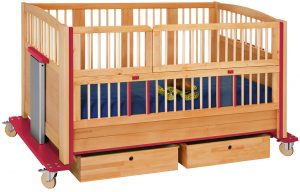 wood colours
Our beds are available in many wood colours. The beech wood is treated with the desired colour glaze, as an alternative to "natural oiled" - all options are biologically neutral and free of harmful substances according to DIN EN 71-3 (security of toys)!
Since wood is a natural raw material, every bed looks different. This makes your bed a real one-of-a-kind!
Lacquered surfaces are also available.
Make your choice...
choose model
choose size
choose equipment
choose colour accents
choose wood tone
lying area / external dimensions
100 x 200 cm / 113 x 218 cm
90 x 200 cm / 103 x 218 cm
90 x 170 cm / 103 x 188 cm
70 x 140 cm / 83 x 158 cm
65 x 155 cm / 78 x 173 cm
doors
four-leaf folding sliding door
four-leaf folding sliding door on both sides
270° folding door
270° folding door on both sides
lowerable side rail (electric/manual)
side rail can be lowered on both sides (electric/manual)
locking mechanism
child proof SAVI-lock I
child proof SAVI-lock I, metal
child proof SAVI-lock II
child proof SAVI-lock III
child proof SAVI-lock IV
lying height (top of the slatted bed base)
41 - 76 cm - Knut (a)
41 - 91 cm - Knut (b)
21 - 91 cm - Knut (c)
31 - 101 cm - Knut (c)
barred side height / overall height
64 cm / 113 - 148 cm - Knut (a)
78 cm / 127 - 183 cm - Knut (a)
89 cm / 127 - 197 cm - Knut (a)
64 cm / 113 - 148 cm - Knut (b)
78 cm / 127 - 183 cm - Knut (b)
89 cm / 127 - 197 cm - Knut (b)
64 cm / 113 - 148 cm - Knut (c)
78 cm / 127 - 183 cm - Knut (c)
89 cm / 127 - 197 cm - Knut (c)
special sizes on request
slatted bed base
not adjustable
head-/foot element manually adjustable
electrically adjustable head-/foot element
firm bed base
Trendelenburg-function / anti-Trendelenburg-function (sloping position)
running gear
four-castor running gear (plastic)
4 designer castors (beech wood)
without castors (reduced lying height of about 10cm)
kind of wood
mattresses
polyfoam RG 35
interior spring mattress
Reha-Star Plus mattress
Reha-Star II matress
cold foam mattress
incontinence cover
accessories
children's name on the side of the bed
coloured sticks in head-/foot element
perspex instead of sticks
head-/foot element with perspex in the lower area (serial for C)
external lock
hose feed-through
storage compartment with tube feed-through for hanging up
Infusion holder
raising aid
drawers (2 pieces)
motor cover
mattress holder
step protection for slatted frame
wood care set
central locking device for 4-castor running gear
padding
motif padding MALU, 50 cm
loose Skai padding, 50 cm
fixed Skai padding
fixed Skai padding with vinyl windows
edge padding