Get to know children's care bed Tom Paddy Edition
Tom Paddy Edition - ideal therapy support
Thanks to the folding door, the side rails and the flexible height adjustment options, the Tom in the Paddy Edition supports you in caring for your child. Thanks to the low entry height of just over 20 cm, even smaller children can climb into their childcare bed independently. In contrast to a "normal" cot, it meets your child's requirements and gives him or her a piece of normality.
Fixed padding for even more safety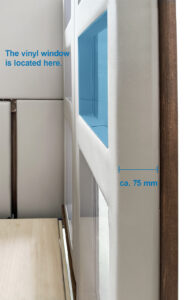 The integrated
vinyl windows
fit flush with the
fixed padding
and still offer unrestricted padding capability. The padding is
wipe-clean
and provides extra
safety
. The windows allow you to
look in and out
. This way, you as a parent keep
control
over your offspring and your child feels more comfortable. On the whole, the bed gains in
cosiness
.

Why you should choose Tom in the Paddy Edition
The technical features of the bed offer many advantages for the care of your child.
With a side rail height of 123 cm, your toddler has no chance of falling out of bed. In addition, the lying height can be flexibly adjusted between 20 and 90 cm. This has advantages for both you and your child. It can get out of bed on its own and you can set a height that is easy on your back.
Optionally, we can equip the bed for you with a Trendelenburg/Antitrendelenburg function.
Technical features at a glance
High side rails: Tom Paddy Edition has a side rail height of 123 cm.
Lying height: The lying height can be flexibly adjusted between 20 cm and 90 cm.
Trendelenburg/antitendelenburg function (optional): This positioning can specifically help with your child's therapy.
Vinyl windows: The windows offer you control options and your child safety and a greater feel-good factor.
Integrated padding: The padding is an integral part of the bed and can be cleaned easily.
Integrated padding and vinyl windows: All our beds can be equipped with permanently integrated padding AND vinyl windows on request. Your child gets everything from the outside and is safe at the same time.
Why you should buy our Tom Paddy Edition childcare bed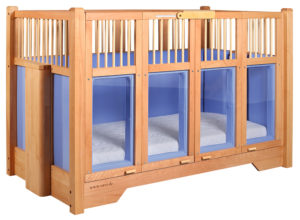 Easy handling: When processing the doors and other bed elements, we pay special attention to ensuring that everything is smooth and easy to handle.
Safety: A childcare bed must be safe! That's why the Tom Paddy Edition has a childproof lock.
Combination possibility: The bed can be combined with a wide variety of slatted frames.
Adjustability: You can adjust the bed to the right care height in no time at all.
Child-friendly processing: When processing the wooden surfaces of our beds, we take great care to ensure that everything is treated in a child-friendly manner (DIN 71-3 safety for toys).
Because we don't want your child to get hurt!
Load capacity: Tom Paddy Edition can hold a person weighing up to 150 kg.
Extensive accessories: Do you have additional wishes? Tom Paddy Edition can be extended with accessories.
Construction: The bed is stable and reliable.
Bed size: Tom Paddy Edition is available in two sizes (90x200 cm and 90x170 cm).
Wetness protection: Each of our children's care beds is equipped with wetness protection so that it can withstand sweat and saliva.
Standard-compliant: All our children's care beds comply with the specified standards and regulations. For example, they all have a minimum side rail height of 60 cm.
Short delivery times: We won't keep you waiting long for the care bed!
Have you decided on a bed?
Get in touch with us! Together with our knowledgeable experts, you can tailor the children's care bed to your child's needs. We look forward to helping you!
Catalogues & downloads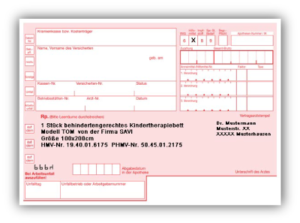 In our download area you will find helpful informations and latest brochures to download. Click here to go to the corresponding area.
Request catalogue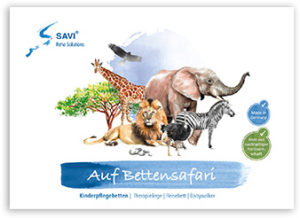 By using our online form you can conveniently order latest catalogues, conveniently delivered to your door.
Our wood tones/surface finish
Our care beds are available in various wood tones/surface finishes:
wood colours
Our beds are available in many wood colours. The beech wood is treated with the desired colour glaze, as an alternative to "natural oiled" - all options are biologically neutral and free of harmful substances according to DIN EN 71-3 (security of toys)!
Since wood is a natural raw material, every bed looks different. This makes your bed a real one-of-a-kind!
Lacquered surfaces are also available.
Make your choice...
choose model
choose size
choose equipment
choose colour accents
choose wood tone
lying area / external dimensions
90 x 200 cm / 120 x 238 cm
90 x 170 cm / 120 x 208 cm
doors
locking mechanism
child proof SAVI-lock I
child proof SAVI-lock I, metal
child proof SAVI-lock II
child proof SAVI-lock III
child proof SAVI-lock IV
lying height (top of the slatted bed base)
20 cm - 90 cm (low entrance)
door height / total height
slatted bed base
not adjustable
manually adjustable head-/foot element
electrically adjustable head-/foot element
firm bed base
Trendelenburg-function (sloping position of the lying area)
running gear
without castors (low entry height of approx. 20 cm)
small castors (low entry height of approx. 27 cm)
kind of wood
beech wood, colour accent "nature"
mattresses
polyfoam RG 35
interior spring mattress
Reha-Star Plus mattress
Reha-Star II matress
cold foam mattress
incontinence cover
accessories
children's name on the side of the bed
external door safety catch on the bed side
entry aid in blue or creme
hose feed-through
storage compartment with tube feed-through for hanging up
infusion holder
raising aid
mattress holder
step protection for the slatted frame
wood care set
net-roof
roof with lexan and ventilation holes
bluetooth-control
padding
Here you can see some models we've produced to customer's order.
The Tom Paddy-edition is only available in standard sizes 90x200 cm and 90x170 cm and is because of that within a short time deliverable. Please contact us if you have special requests!