Care bed "S" - a powerful aid in everyday care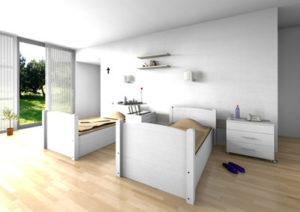 The care bed "S" is suitable for in-patient use, for facilities, as well as for home care.
In order to optimally relieve you as a carer, the bed has a wide range of functions. For example, it can be easily adjusted to the correct care height. In this way, you can care for the patient or your relative in a way that is as easy on the back as possible.

Features of the care bed at a glance
Compatible: The care bed "S" can be combined with all slatted frames.
Adjustment option: Thanks to the adjustment option, you can care for the patient at the correct care height and without subsequent back pain. The lying height can be electrically adjusted between 40 and 80 centimetres. The head and foot sections are also adjustable.
Construction: Like all our beds, the "S" model is also extraordinarily stable and reliably manufactured.
Wetness protection: The material surface of the bed is processed in such a way that it can withstand moisture. The following classifications apply to the "S" care bed: IP54/IP66| EN 60601-2-38 and EN 1970.
Design: As the customer, you decide how the bed should look.
Extra functions: Depending on the care requirements, extras such as a foot cut-out (can be moved under with patient lifter) or a fall-out protection (by means of plug-in or comfort drop-down rails) can be added.
A care bed that fits your life!
With our beds, we want to help bring normality and routine into your everyday life. We want to make care as pleasant as possible for both the carer and the person being cared for. Therefore, it is important to us that our beds not only convince with their functions, but also with their design. We think: a care bed should look homely! And since everyone has a different furnishing style in their home, you help to design the bed. This way, the special bed is guaranteed to fit into your four walls.
The right bed size for every patient
All our beds are designed according to the living conditions of our customers. That is why we manufacture the "S" model as a single and double bed in different sizes.
Single bed
We offer the single bed "S" in the following sizes:
90x200/210/220/230 cm
100x200/210/220/230 cm
120x200/210/220/230 cm
140x200/210/220/230 cm
Double bed
You can also order this model as a double bed in a wide range of sizes:
160x200/210/220/230 cm
180x200/210/220/230 cm
200x200/210/220/230 cm
Care bed in the wood tone of your choice
Choose a wood tone that you like and that fits into your four walls. Thanks to the simple design, the bed cuts a good figure in any colour tone and thus harmonises with different styles.
Individual production and fast delivery time
After you have sent us your enquiry and we have discussed all the details, the bed goes into production. We manufacture the care bed "S" individually according to your specifications and deliver it in the shortest possible time.
Our wood tones/surface finish
Our care beds are available in various wood tones/surface finish. Furthermore, you can choose between various colours of padding.
Make your choice...
choose model
choose size
choose equipment
choose colour accent
lying area / external dimension
100 x 200 cm / 115 x 215 cm
120 x 200 cm / 135 x 215 cm
140 x 200 cm / 155 x 215 cm
lying height (top of slatted bed base)
40 - 80 cm
low foot element
side rail
without barred sides
1 adjustable barred side
2 adjustable barred sides
1 manually removable barred side
2 manually removable barred sides
adjustable elements on head and foot element
version
load up to 150 kg
load up to 350 kg
slatted bed base
not adjustable (for load up to 350 kg)
manually adjustable (for load up to 150 kg)
electrically adjustable (for load up to 150 kg)
electrically adjustable (for load up to 350 kg)
running gear
cut out 12 cm (for patient lift)
4-castor running-gear
mattress
polyfoam RG 35
interior spring mattress
Reha-Star Plus mattress
Reha-Star II matress
cold foam mattress
heavy weight mattress (for load up to 350 kg)
incontinence cover
equipment
raising aid
bed table with electric console
bed table without console
perspex within the side rails
fixed Skai-padding
edge padding