Care bed "Si" - retreat at night and care assistant during the day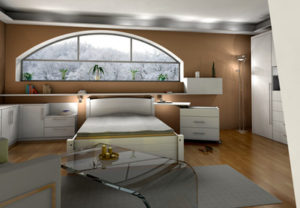 The "Si" care bed supports you in caring for your relative at home. It combines
comfort
and
functionality
. The person in need of care spends restful nights in this bed and you are ideally supported in everyday care thanks to the useful functions. Of course, the care bed is also suitable for use in inpatient facilities.

Robust care bed with feel-good factor
"Si" is characterised above all by its load-bearing capacity. The bed can easily support a person weighing between 150 and 350 kilograms.
As with all our bed models, the homely character is not neglected with this care bed either! We manufacture the bed in the wood tone of your choice. So it is guaranteed to match the rest of the furnishings in your four walls.
To achieve the desired wood colour, we treat the wood surface with a wax-oil combination. This has been tested under health and ecological aspects and according to DIN EN71. So you can be sure that the quality of our products meets the highest standards!
A bed with added value
Are you wondering what functions and features the "Si" model has to offer and why you should purchase it? As a care bed manufacturer, we know how to support you in your daily care routine. All our beds are equipped with a wide range of functions. The "Si" model has the following features:
Professional construction: The care bed "Si" is characterised by its excellent construction. This makes the bed a reliable companion.
Adjustable lying height: The lying height is between 40 and 80 centimetres and can be easily adjusted electrically.
Adjustable elements: You can also adjust the headboard and the foot element individually.
Compatibility: The "Si" model can be combined with all slat frames.
Wetness protection: Like all our care beds, "Si" is also resistant to wetness. The bed complies with IP54/IP66| EN 60601-2-38.
Optional extras: Depending on your wishes, we can manufacture the bed with a foot cut-out that can be moved underneath with a patient lift. In addition, it is possible to equip "Si" with an insertion or comfort lowering guard to prevent the person in need of care from falling out.
Sizes of the care bed
A bed should be designed according to its owner. Only when all the conditions are right can you spend quiet and restful nights in the bed. For this reason, we offer the care bed "Si" in different sizes. Choose the right dimensions and give your relative a bed in which good sleep is pre-programmed.
Single bed
90x200/210/220/230 cm
100x200/210/220/230 cm
120x200/210/220/230 cm
140x200/210/220/230 cm
Request your care bed
You are interested and want to get the care bed "Si" for your home? Then send us an enquiry with your wishes and requirements. Together we will plan the special bed according to your specifications and manufacture it in the shortest possible time. This means that "Si" will quickly find its way into your home.
Our wood tones/surface finish
Our care beds are available in various wood tones/surface finish. Furthermore, you can choose between various colours of padding.
Make your choice...
choose model
choose size
choose equipment
choose colour accent
lying area / external dimension
100 x 200 cm / 115 x 215 cm
120 x 200 cm / 135 x 215 cm
140 x 200 cm / 155 x 215 cm
lying height (top of slatted bed base)
40 - 80 cm
low foot element
side rails
without barred sides
1 adjustable barred side
2 adjustable barred sides
1 manually removable barred side
2 manually removable barred sides
adjustable elements on head and foot element
version
load up to 150 kg
load up to 350 kg
slatted bed base
not adjustable (for load up to 350 kg)
manually adjustable (for load up to 150 kg)
electrically adjustable (for load up to 150 kg)
electrically adjustable (for load up to 350 kg)
running gear
cut out 12 cm (for patient lift)
4-castor running-gear
mattress
polyfoam RG 35
interior spring mattress
Reha-Star Plus mattress
Reha-Star II matress
cold foam mattress
heavy weight mattress (for load up to 350 kg)
incontinence cover
equipment
raising aid
bed table with electric console
bed table without console
perspex within the sides
fixed Skai-padding
edge padding