ChoReha (e) - high side walls for an optimal safety at night

With a side rail height of 100 centimetres, the ChoReha (e) bed model is perfectly equipped. Like all our Huntington's disease beds, this model is tailored to the patient's needs. We provide all walls with padding, which means that your loved one can no longer injure themselves through hectic movements during the night.
Practical functions for optimal care support
As a care bed manufacturer, we not only have the needs of the patients in mind, but also those of the caregivers and relatives. That is why we equip all special beds with helpful functions, such as an electrically adjustable lying height. But also the folding doors of the bed make it easier for you to provide care in your own four walls.

What distinguishes our ChoReHa (e) care bed?
Side rail height: The side rails are 100 cm high. This makes it impossible for the patient to fall out of bed at night.
Padding height: The bed rails are generously padded up to a height of 70 cm.
Electrically adjustable lying height: To ensure that you do not lose sight of your own health during care, the lying surface is electrically adjustable.
Design of your choice: It is important to us that the care bed does NOT have a hospital charm. That's why you have the choice of different wood tones and padding colours to design a bed that fits into your interior.
Four-panel folding door: Thanks to the folding door, you can care for your relative in the most health-friendly way possible. Win win for both sides!
External padding (optional): For Huntington's disease patients who need special protection, we also provide the bed with optional padding on the outside.
Care bed sizes
The ChoReHa (e) model offers space for one person and is available in these dimensions:
We also manufacture care beds in special sizes.
Please feel free to contact us about this at any time!
Our wood tones/surface finish
Our care beds are available in various wood tones/surface finish. Furthermore, you can choose between various colours of padding.
Available favourite colours and suitable padding colours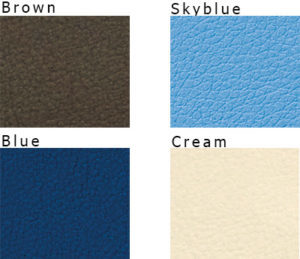 Make your choice...
choose model
choose size
choose equipment
choose colour accent
lying area / external dimenstions
100 x 200 cm / 128 x 223 cm
120 x 200 cm / 148 x 223 cm
lying height (top of the slatted bed base)
41 - 76 cm electrical height adjustment
41 - 91 cm electrical height adjustment (only model b)
40 - 80 cm electrical height adjustment (only model c, d, e)
barred side
four-winged folding doors
four-winged folding doors on both sides
barred side height
ChoReha (a): 40 cm
ChoReha (b): 64 cm
ChoReha (c): 40 cm
ChoReha (d): 60 cm
ChoReha (e): 70 cm
slatted frame
running gear
Skai-padding colour
mattress
polyfoam RG 35
interior spring mattress
Reha-Star Plus mattress
Reha-Star II matress
cold-foam mattress
heavy-load mattress (load capacity up to 350 kg)
incontinence cover
accessories
raising aid
perspex at the barred sides
fixed Skai-padding
fixed Skai-padding with vinyl windows
edge padding
external padding
Here you can see some special versions we've produced to customer\'s order.
If you have special requests too, please contact us!