Get to know and love our Tom childcare bed
Tom - The all-rounder among children's care beds
Are you looking for a homely yet practical care bed for your child? Then our Tom model is just the thing!
With its four-wing folding sliding door, side rails and flexible height adjustment options, Tom perfectly combines safety and homeliness. The bed offers you optimal therapy support and still has the charm of a "normal" children's bed. Thanks to the entry height of just over 30 cm, your toddler can climb into the bed independently. This gives them a completely new feeling of independence.

Curious how the child care bed Tom looks in your nursery?
Simply scan the QR code with your smartphone and place the cot visually in your nursery!
Tom (72) 100x200 cm:                        Tom (113) 90x170 cm:                        Tom (113) 90x200 cm: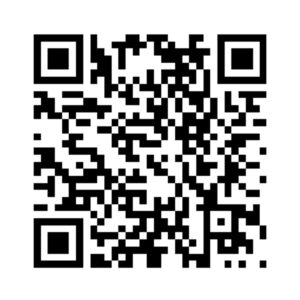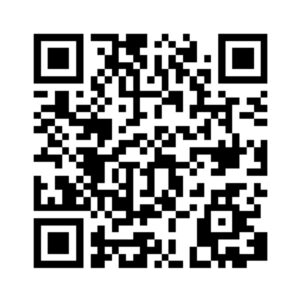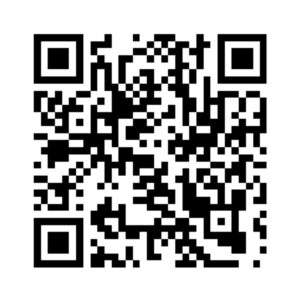 Tom (113) 100x200 cm:                        Tom (135) 90x200 cm:                        Tom (150) 100x200 cm: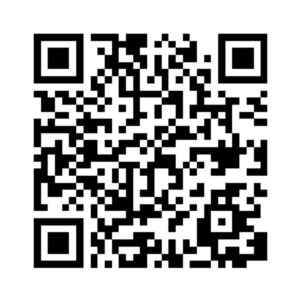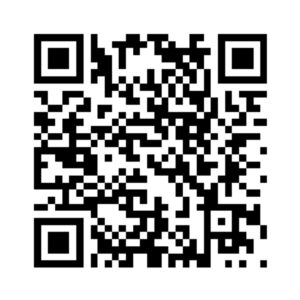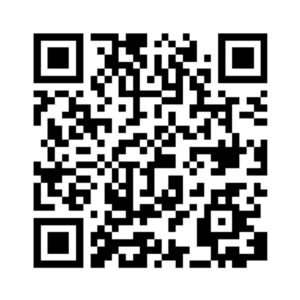 A bed that meets the therapy needs of your child!
As a care bed manufacturer, we at SAVI know how important it is to respond individually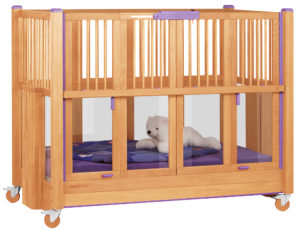 to the needs of the person being cared for. Whether adult or child - the care bed must be a place of retreat and therapy support at the same time.
Tom makes your daily care routine easier
In order to meet the above-mentioned requirements, Tom has a wide range of functions. These support you in everyday care with your child.
For example, we supply the side rails in different heights. They are available in heights of 113 cm and 135 cm. Of course, you can also request an individual (higher) height.
With regard to the lying height, you have the choice between 34 cm to 104 cm or lying height 20 cm to 90 cm. The lying height can be adjusted flexibly and easily so that your child can be lifted out of the bed at any time without damaging his or her back.
If your child's therapy requires it, you can easily move the bed into the Trendelenburg or Antitrendelenburg position.
You always want to have your child in view? Then we recommend that you provide Tom with plexiglas windows. This allows your child to maintain eye contact with you, making them feel safer and giving you a good view of your offspring.
To adapt the bed perfectly to the room concept of your child's room, choose the colour accents yourself. This will give it a personal character.
Tom's features shortly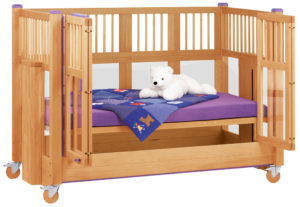 Side rail height: The side rails can be ordered in 113 cm and 135 cm height as standard. Higher dimensions are available on request.
Lying height: You can order the lying height either in 34 cm to 104 cm or in 20 cm to 90 cm height.
Trendelenburg/Antitrendelenburg function: The head and foot sections can be flexibly adjusted according to the therapy requirements.
Plexiglas windows or version with bars: On request, we can provide the bed with Plexiglas. So you can always keep an eye on your child!
Colour accents of your choice: You want to give the bed a personal character? No problem, at SAVI you choose the colour accents of all beds yourself!
Bed size and side rail height
Make sure you have the right bed size and side rail height for good care! Do you need help in this regard? Our knowledgeable staff are experts in their field and will help you with all your care bed questions. Feel free to contact us at any time, we will be happy to help you!
This speaks for our care bed Tom
You are not convinced yet? These features make Tom a perfect childcare bed:
Handling & safety: The doors and the different heights are easy to handle and adjust. In addition, Tom has a child-proof lock.
Can be combined with all slatted frames: Tom can be combined with a wide range of slatted frames.
Optimal adjustability: With a few simple steps, you can set your perfect care height and thus care for your child in a way that is particularly easy on the back.
Protection: Some children need a particularly high level of protection, for example to prevent them from hurting themselves during sleep. For this purpose, we offer the option of equipping the children's care bed with firmly integrated padding and vinyl windows.
Child-friendly materials: The wooden surfaces of all our children's care beds are treated in a child-friendly way (DIN 71-3 safety for toys).
Resilience: You want to join your offspring during the evening read-aloud? No problem! Tom can withstand a person's weight of up to 150 kg.
Extensive accessories: All our bed models can be extended in their functionality with a variety of accessories and extra equipment.
Professional construction: Tom is characterised by its high stability and reliability.
Wetness protection: Thanks to the wetness protection, Tom can withstand any kind of body fluids.
DIN regulation: All our beds comply with the prescribed standards. For example, they have a minimum side rail height of 60 cm.
Short delivery times: We won't keep you waiting and will deliver your care bed as quickly as possible!
Do you want Tom to be your child's bed?
Have you decided on the Tom? Feel free to contact us so that we can plan the next steps together. We will also clarify any unanswered questions and plan the childcare bed according to your wishes and requirements. We look forward to helping you find the perfect childcare bed!
Catalogues & downloads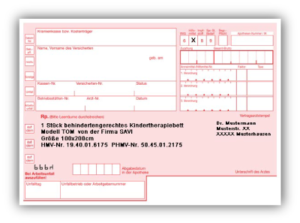 In our download area you will find helpful informations and latest brochures to download. Click here to go to the corresponding area.
Request catalogue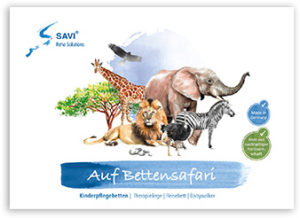 By using our online form you can conveniently order latest catalogues, conveniently delivered to your door.
Our wood tones/surface finish
Our care beds are available in various wood tones/surface finishes: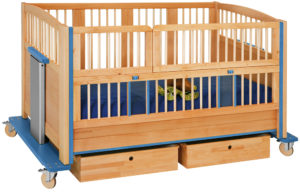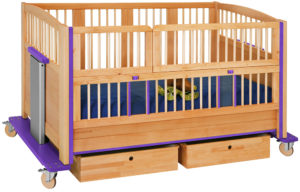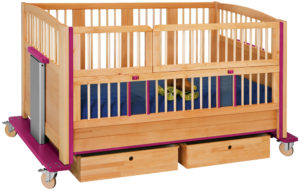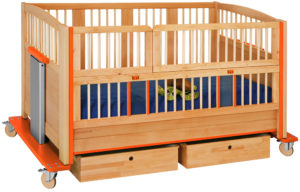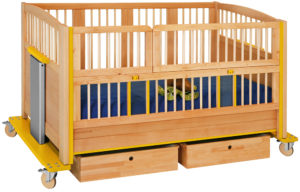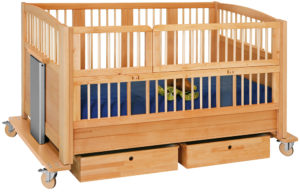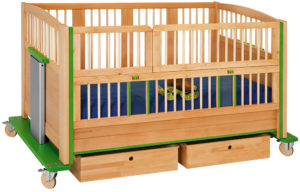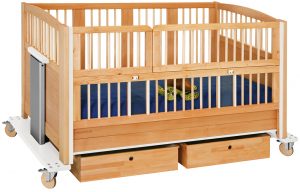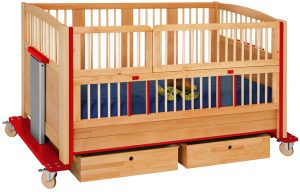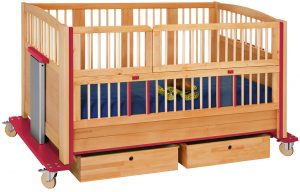 wood colours
Our beds are available in many wood colours. The beech wood is treated with the desired colour glaze, as an alternative to "natural oiled" - all options are biologically neutral and free of harmful substances according to DIN EN 71-3 (security of toys)!
Since wood is a natural raw material, every bed looks different. This makes your bed a real one-of-a-kind!
Lacquered surfaces are also available.
Make your choice...
choose model
choose size
choose equipment
choose colour accents
choose wood tone
lying area / external dimensions
100 x 200 cm / 115,5 x 223 cm
90 x 200 cm / 105,5 x 223 cm
90 x 170 cm / 105,5 x 193 cm
65 x 155 cm / 80,5 x 178 cm
70 x 140 cm / 85,5 x 163 cm
doors
4-winged folding sliding door
4-winged folding sliding door on both sides
270° folding door
270° folding door on both sides
folding door
folding door on both sides
locking mechanism
child proof SAVI-lock I
child proof SAVI-lock I, made of metal
child proof SAVI-lock II
child proof SAVI-lock III
child proof SAVI-lock IV
lying height (top of the slatted bed base)
34 cm - 104 cm
20 cm - 90 cm (low entrance)
barred side height / overall height
72 cm / 114 cm
113 cm / 155 cm
135 cm / 177 cm
150 cm / 192 cm
special sizes on request
slatted bed base
not adjustable
head and foot section manual adjustment
head and foot section electric adjustment
firm bed base
Trendelenburg-function (sloping position)
running gear
4 castor running gear (plastic)
4 designer wood castors
without castors (low entry height of approx. 20 cm)
small castors (low entry height of approx. 27 cm)
kind of wood
mattresses
polyfoam RG 35
interior spring mattress
Reha-Star Plus mattress
Reha-Star II matress
cold foam mattress
incontinence cover
accessories
children's name on the side of the bed
coloured bars in the head and foot sections
perspex in the lower area instead of bars
bars instead of perspex
interprotection protection for the height adjustment
external door safety catch on the bed side
entry aid in blue (other colours on request)
hose feed-through
storage compartment with tube feed-through for hanging up
infusion holder
raising aid
adaption of the bed to sloping ceiling
mattress holder
step protection for the slatted frame
wood care set
net-roof
roof with lexan and ventilation holes
padding
motif padding MALU, 50 cm
loose Skai-padding, 50 cm
loose Skai-padding, 100 cm
fixed Skai-padding
fixed Skai-padding with vinyl windows
edge Skai-padding
Here you can see some special versions we've produced to customer's order.
If you have special requests too, please contact us!