therapy chair "Wellenreiter"
The practical, growing therapy chair for everyday use
Our new Wellenreiter therapy chair has useful features.
Both the Wellenreiter S model and the L model are available in the KiGa version with a lower seat height.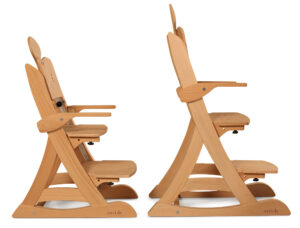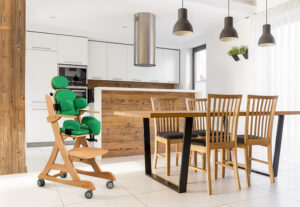 The chair blends harmoniously into the living environment and is an ideal support for active sitting, not only at the kitchen table. The washable seat cushions are available in several attractive colours. Back support and seat cushion can be adjusted to your individual needs by your specialist dealer.
The practical adjustment possibilities offer a stepless and quick adjustment of the height. We offer the attachable therapy table in two sizes, either with or without a rim.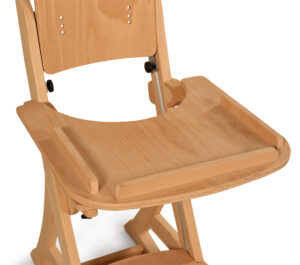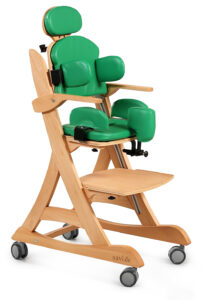 "Wellenreiter" consists of a stable frame made of lacquered beech wood with integrated aluminium profiles. The height and angle of the backrest are adjustable. Armrests height adjustable. Seat and foot plate can be adjusted several times (height, inclination, depth). Seat and backrest cushions and transport castors included.
Download an overview of the options and accessories here!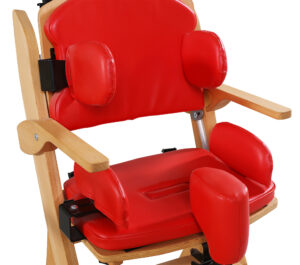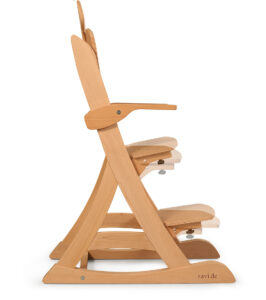 seat width
 size S KiGa: 17-28 cm
 size S : 17-28 cm
 size L KiGa: 24-34 cm
 size L: 24-34 cm
 size XL: 30-40 cm
seat depth
 size S KiGa: 20-27 cm
 size S : 20-27 cm
 size L KiGa: 27-33 cm
 size L: 27-33 cm
 size XL: 29-35 cm
seat height max.
 size S KiGa: 47 cm
 size S : 57 cm
 size L KiGa: 49 cm
 size L: 55 cm
 size XL: 64 cm
back height
 size S KiGa: 23 cm
 size. S : 23 cm
 size L KiGa: 26 cm
 size L: 26 cm
 size XL: 31 cm
back angle
seat angle and foot angle
max. load
 size S KiGa: 30 kg
 size S : 30 kg
 size L KiGa: 45 kg
 size L: 45 kg
 size XL: 60 kg