Huntington's disease beds - sleep in safety

Our nursing beds for Huntington's disease patients are distinguished by spedial padded cot sides. The fixed padding offers the patient effective protection against injury from uncontrolled movements.

Advantages of these beds
prevention of injuries (positive side effect: no medical costs)
the cot sides ensure that the patient stays in bed during the night
the patient gets the necessary sleep
By using of this special bed it can be avoid that the patient injures himself during the night and that there is enough freedom of movement he/she needs due to the illness.
The most appropriate cot-side height and padding type (incl. padded rims) must be selected to ensure that the patient remains in his/her bed during the night and gets enough sleep.
Advantages of our special bed ChoReHa (e)
cot-side height: 100 cm
padding height: 70 cm
electrically adjustable bed height: 40-80 cm
free choice of wood tone
free choice of colour of Skai-padding
four-winged folding doors
optional under-floor illumination
Bed sizes
Bed also available in 210 cm and 220 cm length as well as in custom sizes.
Single bed
90x200 cm
100x200 cm
120x200 cm
140x200 cm
Our wood tones/surface finish
Our care beds are available in various wood tones/surface finish. Furthermore, you can choose between various colours of padding.
Available favourite colours and suitable padding colours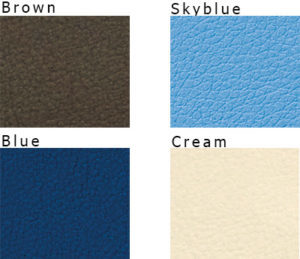 Make your choice...
choose model
choose size
choose equipment
choose colour accent
lying area / external dimenstions
100 x 200 cm / 128 x 223 cm
120 x 200 cm / 148 x 223 cm
lying height (top of the slatted bed base)
41 - 76 cm electrical height adjustment
41 - 91 cm electrical height adjustment, only model (b)
40 - 80 cm electrical height adjustment, only model (c, d, e)
barred side
four-winged folding doors
four-winged folding doors on both sides
barred side height
ChoReha (a): 40 cm
ChoReha (b): 64 cm
ChoReha (c): 40 cm
ChoReha (d): 60 cm
ChoReha (e): 70 cm
slatted frame
running gear
Skai-padding colour
mattress
polyfoam RG 35
interior spring mattress
Reha-Star Plus mattress
Reha-Star II matress
cold-foam mattress
heavy-load mattress (load capacity up to 350 kg)
incontinence cover
accessories
raising aid
perspex at the barred sides
edge padding
Here you can see some special versions we've produced to customer\'s order.
If you have special requests too, please contact us!