Get to know children's care bed Lola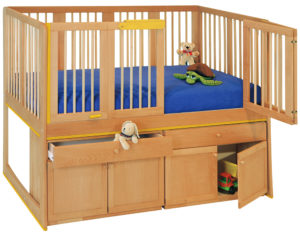 This care bed is ideal for small children because of its fixed high based lying height, making nursing more comfortable. Furthermore it is backsaving and provides comfortable sleep.

What makes children's care bed Lola special
barred side height 65 cm - 90 cm
fixed lying height
bed containers (option)
child proof SAVI-lock
Perspex
choice of colour accents
Why you should purchase a children's care bed Lola
easy door handling with child-proof lock
can be combined with all bed frames
optimal care height, even for tall people
the wooden surface is treated suitable for children (DIN 71-3 Toy Safety)
body weights of up to 150 kg
extensive accessories
Professional construction style, high stability and reliability
available in various bed sizes (up to 180 x 220 cm)
short delivery times
humidity protection
barred side height of 60 cm minimum (DIN/EN-regulation) available!
more pictures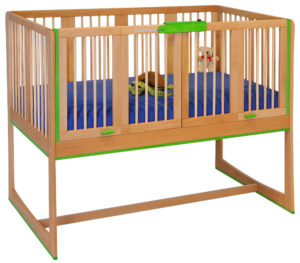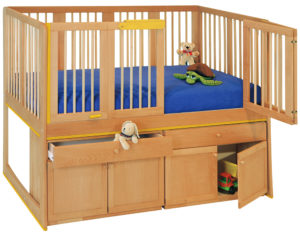 Catalogues & downloads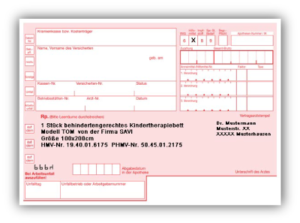 In our download area you will find helpful informations and latest brochures to download. Click here to go to the corresponding area.
Request catalogue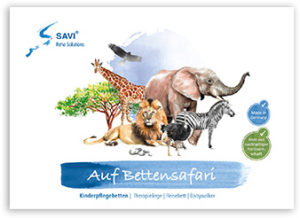 By using our online form you can conveniently order latest catalogues, conveniently delivered to your door.
Our wood tones/surface finish
Our care beds are available in various wood tones/surface finishes:
colour accents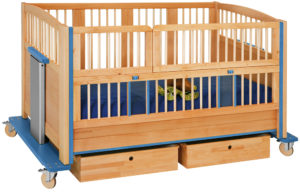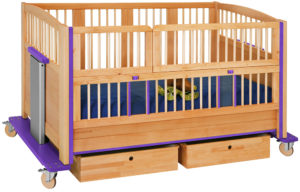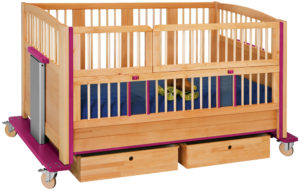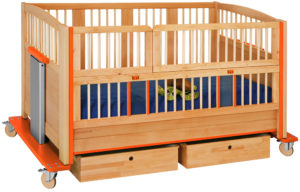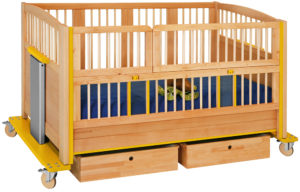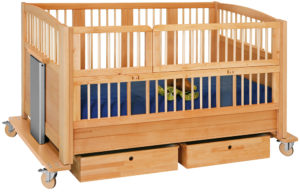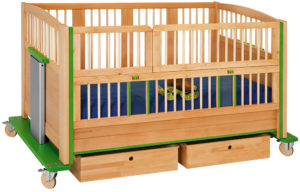 wood colours
Our beds are available in many wood colours. The beech wood is treated with the desired colour glaze, as an alternative to "natural oiled" - all options are biologically neutral and free of harmful substances according to DIN EN 71-3 (security of toys)!
Since wood is a natural raw material, every bed looks different. This makes your bed a real one-of-a-kind!
Lacquered surfaces are also available.
Make your choice...
choose model
choose size
choose equipment
choose colour accents
choose wood tone
lying area / external dimensions
100 x 200 cm / 113 x 206 cm
90 x 200 cm / 103 x 206 cm
door
4-winged sliding door
270° doors
locking mechanism
child proof SAVI-lock I
child proof SAVI-lock II
child proof SAVI-lock III
lying height (top of the slatted bed base)
barred side height / overall height
65 cm / 150 cm
90 cm / 175 cm
special sizes on request
slatted bed base
not adjustable
manually adjustable head-/foot element
electrically adjustable head-/foot element (no height adjustment)
kind of wood
mattresses
polyfoam RG 35
interior spring mattress
Reha-Star Plus mattress
Reha-Star II matress
cold foam mattress
incontinence cover
accessories
2 bed containers
both sides with folding-sliding door
both sides with 270° door
Perspex instead of sticks
external lock on the bed side
raising aid
playbow metal
playbow wood
motif padding
removable Skai-padding
fixed Skai-padding
wood care set
penetration protection for the slatted frame
coloured sticks matching to colour accent
children's name
adaption of the bed to sloping ceiling
Here you can see some special versions we've produced to customer\'s order.
If you have special requests too, please contact us!