Get to know children's care bed Little Mila
Due to the very low construction "Little Mila" offers a lying height of 7 cm (up to 80 cm) including electric head and foot adjustment.
Es ist durch die HMV-Nr. problemlos bei Ihrer Krankenkasse zu beantragen. Unter folgendem Link erhalten Sie eine Übersicht aller Hilfsmittel- sowie Pflegehilfsmittelnummern unserer Kinderpflegebetten: Übersicht Hilfsmittelnummern (PDF)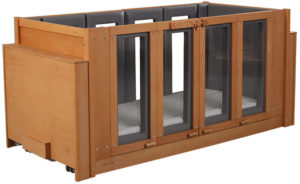 Little Mila's individual strengths
Barred side height 70 - 120 cm
8 doors
Trendelenburg- / Antitrendelenburg-function
Lying height of 7 cm minimum (top of slatted bed base)
Electric head / foot adjustment
Fixed integrated padding, retrofittable (option)
Why should you purchase children's care bed  Little Mila?
Great safety for your child
Biologically neutral, pollutant-free (DIN EN 71-3)
Stability and reliability
Comfortable, back-friendly height electric
Many bed sizes
Individual equipment options
Optimal eye contact with your child
Large, safe indoor area
Colourful padding for maximum protection
Short delivery times
All model variants are available with the following barred side heights
Catalogues & downloads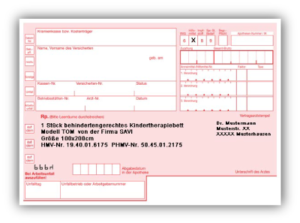 In our download area you will find helpful informations and latest brochures to download. Click here to go to the corresponding area.
Request catalogue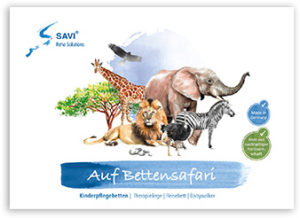 By using our online form you can conveniently order latest catalogues, conveniently delivered to your door.
wood colours
Make your choice...
choose model
choose size
choose equipment
choose wood tone
Lying area/External dimension
90 x 200 cm (size L)/103 x 232 cm (with motor cover)
Barred side height
70 cm83 cm
90 cm102 cm
120 cm132 cm
Doors
Folding doors on both sides (8 doors) •
Locking mechanism
SAVI-lock IV (art.-no. 99.034A) •
Lying height
Top of slatted bed base
7 -80 cm electrical •
Slatted bed base
Electric adjustment (art.-no. 99.200) •
Trendelenburg- / Antitrendelenburg-function (sloping position) •
Running gear
Four castor running gear made of plastic 75 cm •
Kind of wood
Beechwood "natural oiled" (further colours see p. 75) •
Mattresses
Polyfoam mattress •
Cold foam mattress 99.031.5 o.r.
Reha-star mattress plus (up to stage 2) (art.-no. 99.031.3.PLUS) +
Reha-star mattress II (up to stage 4) (art.-no. 99.031.3.ZWEI) +
Incontinence cover (art.-no. 99.031.3ZA50) +
Coloured features
Natural (art.-no. 90.100) n.a.c.
Equipment
Perspexs •
External lock on side of bed (art.-no. 99.706) +
Feed tube hole (art.-no. 99.840) o.r.
Raising aid (art.-no. 99.802) +
Sit up aid (art.-no. 99.820) +
Motor cover (art.-no. 99.803) +
Wood surface care set (art.-no. 99.880) +
Padding
Motifpadding Greta, 50 cm (art.-no. 99.050GRETA) +
Motifpadding Paul, 50 cm (art.-no. 99.050PAUL) +
Motifpadding Pauline, 50 cm (art.-no. 99.050PAULINE) +
Skai-padding 50 cm height (art.-no. 99.051) +
Fixed skai-padding 50 mm with vinyl windows (art.-no. 99.051.FEST) +
Egde padding (art.-no. 99.052) +
• = standard; o.r. = on request; + = accessories ; n.a.c. = no additional charge;