Get to know children's care bed Knut (b) 40-edition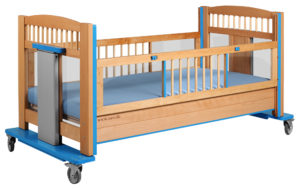 Thanks to the removable clip-on element, we achieve a barred side height of only 40 cm, while at the same time the legal requirements are maintained. Due to the various height- and incline adjustment options of the lying area (from spring 2017 also with optional bluetooth-control), the Knut (b) 40-edition bed offers a very good therapeutic support.

What makes children's care bed Knut (b) 40-edition special
barred side height 40 cm (64 cm incl. clip-on element)
lying height from 41 cm up to 91 cm
barred side electrically adjustable (option)
Trendelenburg-function (sloping position of the lying area)
plexi-glass panelling (as illustrated)
Why you should choose our Knut (b) 40-edition
therapy bed for kids, young people and small persons
easy handling of the doors with child-proof lock
can be combined with all bed frames
optimum adjustment to correct care height possible, even for tall people
the wooden surface is treated suitably for children (DIN 71-3 Toy Safety)
body weights up to 150 kg possible
extensive accessories
professional construction style, high stability and reliability
available in two sizes (90x200 cm and 90x170 cm)
short delivery time
humidity protection
barred side height of 60cm (DIN/EN-regulation) available!
More pictures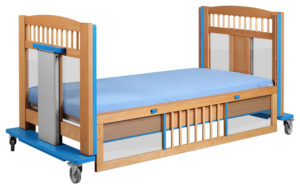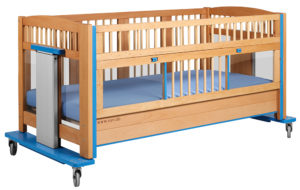 Advantages of the electrically adjustable barred side
easy to use at the push of a button
lockable control element prevents unsupervised opening
can also be operated by people with disabilities
minimal operationg strength required (pushbutton)
infinitely adjustable
short adjustment times (side rail can be adjusted in a suitable time)
conformity to international bed standards - important for care beds!
Catalogues & downloads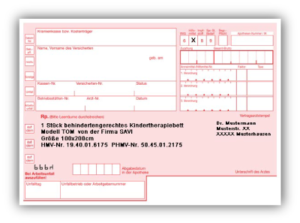 In our download area you will find helpful informations and latest brochures to download. Click here to go to the corresponding area.
Request catalogue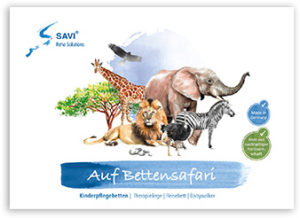 By using our online form you can conveniently order latest catalogues, conveniently delivered to your door.
Our wood tones/surface finish
Our care beds are available in various wood tones/surface finishes: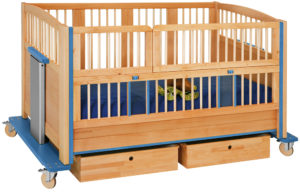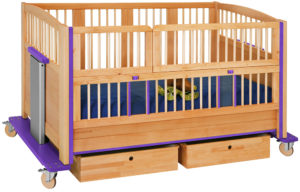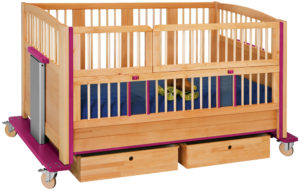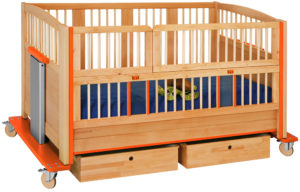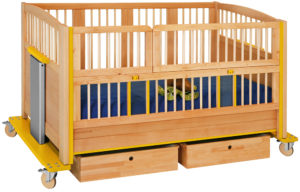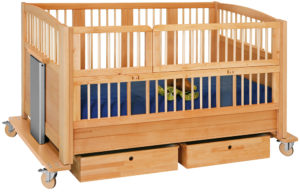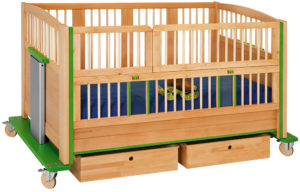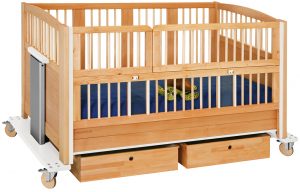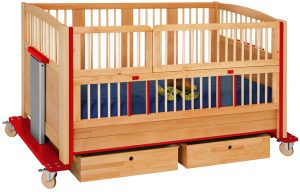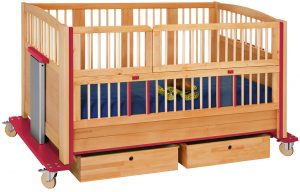 wood colours
Our beds are available in many wood colours. The beech wood is treated with the desired colour glaze, as an alternative to "natural oiled" - all options are biologically neutral and free of harmful substances according to DIN EN 71-3 (security of toys)!
Since wood is a natural raw material, every bed looks different. This makes your bed a real one-of-a-kind!
Lacquered surfaces are also available.
Make your choice...
choose model
choose size
choose equipment
choose colour accents
choose wood tone
lying area / external dimenstions
90 x 200 cm / 106,5 x 232 cm
90 x 170 cm / 106,5 x 202 cm
doors
lowerable side rail
lowerable side rail, electric
side rails lowerable on both sides
side rails lowerable on both sides, electric
lying height (top of slatted bed base)
barred side height / total height
64 cm (40 cm + 24 cm clip-on element) / 113 - 148 cm
slatted bed base
not adjustable
head-/foot element manually adjustable
head-/foot element electrically adjustable
firm bed base
Trendelenburg-function / Anti-Trendelenburg-function (sloping position of the lying area)
running gear
four-castor running gear (plastic)
four designer castors (beech wood)
kind of wood
mattresses
polyfoam RG 35
interior spring mattress
Reha-Star Plus mattress
Reha-Star II matress
cold foam mattress
incontinence cover
accessories
children's name on the side of the bed
coloured sticks in head-/foot element
perspex instead of sticks
head-/foot element with perspex in the lower area (serial for C)
external lock
hose feed-through
storage compartment with tube feed-through for hanging up
Infusion holder
raising aid
drawers (2 pieces)
motor cover
mattress holder
step protection for slatted frame
wood care set
bluetooth control
padding
motif padding LEVI, 50 cm
motif padding MALU, 50 cm
loose Skai padding, 50 cm
fixed Skai padding
fixed Skai padding with vinyl windows
edge padding